 Connecticut grew wealthy before the war and even more rich during the conflict. The state was well on its way to industrialization decades before 1861.
Part of the reason was the labor force: a relatively advanced system of public education provided managers while population growth and a steady influx of immigrants supplied workers. But more important to the momentum of industry was a the good fortune of geography.
Nineteenth century industry required power for massive machinery but electricity and fossil fuel were still more dream than reality. Instead, factories and mills required running water, and Connecticut had plenty of that. Rivers running south and east from the Berkshires and the Taconics and the White and Green Mountains created whitewater and water falls. Water powered the factories.
More than a hundred miles of Long Island Sound coastline meant that seagoing vessels could be and were built while the long and deep Connecticut River meant that shipyards fifty miles from the shore could build rivergoing boats.
The water also meant that products and raw materials could be shipped almost anywhere. Geography assured Connecticut's contribution to the materials of war.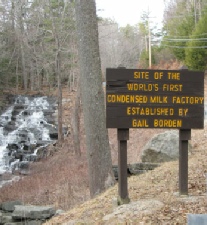 Iron mining and manufacture
The towns of northwestern Connecticut are today among the loveliest in New England. But during the Civil War famous old iron furnaces made charming towns like Canaan and Falls Village into smoky, sooty manufacturing centers
Iron clads from Mystic
The U.S.S. Galena, one of the three original Union ironclads, was built at the Maxon Fish shipyard. This beautiful spot is now a private marina.
Woolen mill to swimming and fishing
The water at Hopeville Pond State Park in Griswold was once used to power several woolen mills that produced wool and the cheaper shoddy for uniforms.
Borden Milk
Although it soon moved to New York for better train service, Gail Borden's condensed milk company came to fame at the rushing water at what is now Bull Pond State Park in Burrville.